The Last weekend of these two critical acclaimed performances "Verksamhetsanalysen" (Operation Analysis) by Éva Mag and Forsens början ( the Rapid's beginning) by Anna- Karin Rasmusson. 
IT'S TWO AMAZING WORKS TO DIVE IN TO, TO EXPERIENCE THE PROCESS AND THE BEAUTIFUL IMAGES OF BLOODY DECAY AND RENEWAL WHICH APPEARES INFRONT OF YOU!
DON'T MISS THIS! LAST TIME ON SATURDAY 4 MARCH!!  TICKETS→Kulturcentralen
" 
We just can't stop messing up. The human struggle persists in two large-scale performances at Lilith Performance Studio in Malmö." writes Kunstkrikk's reviewer Hedvig Weibull about DURATIONAL SPACE.

Read the whole review here →REVIEW KUNSTKRITIKK (ENG)

"Durational space" reflects collapse and rebirth in evocative image sequences, writes DN's critic Sofia Nyblom.→REVIEW IN DN (in Swedish)

"In both cases there is something deeply moving in the activity that goes on. Whether it is meaningful or not, man continues his pursuit." Carolina Söderholm, Sydsvenskan – →REVIEW IN SYDSVENSKAN (in Swedish)

"However, I think I can just as easily read into the decay and announced doom of our entire civilization. It is a strong work.." Torun Börtz, Ystadsallehanda-→REVIEW IN YSTADSALLEHANDA (In Swedish)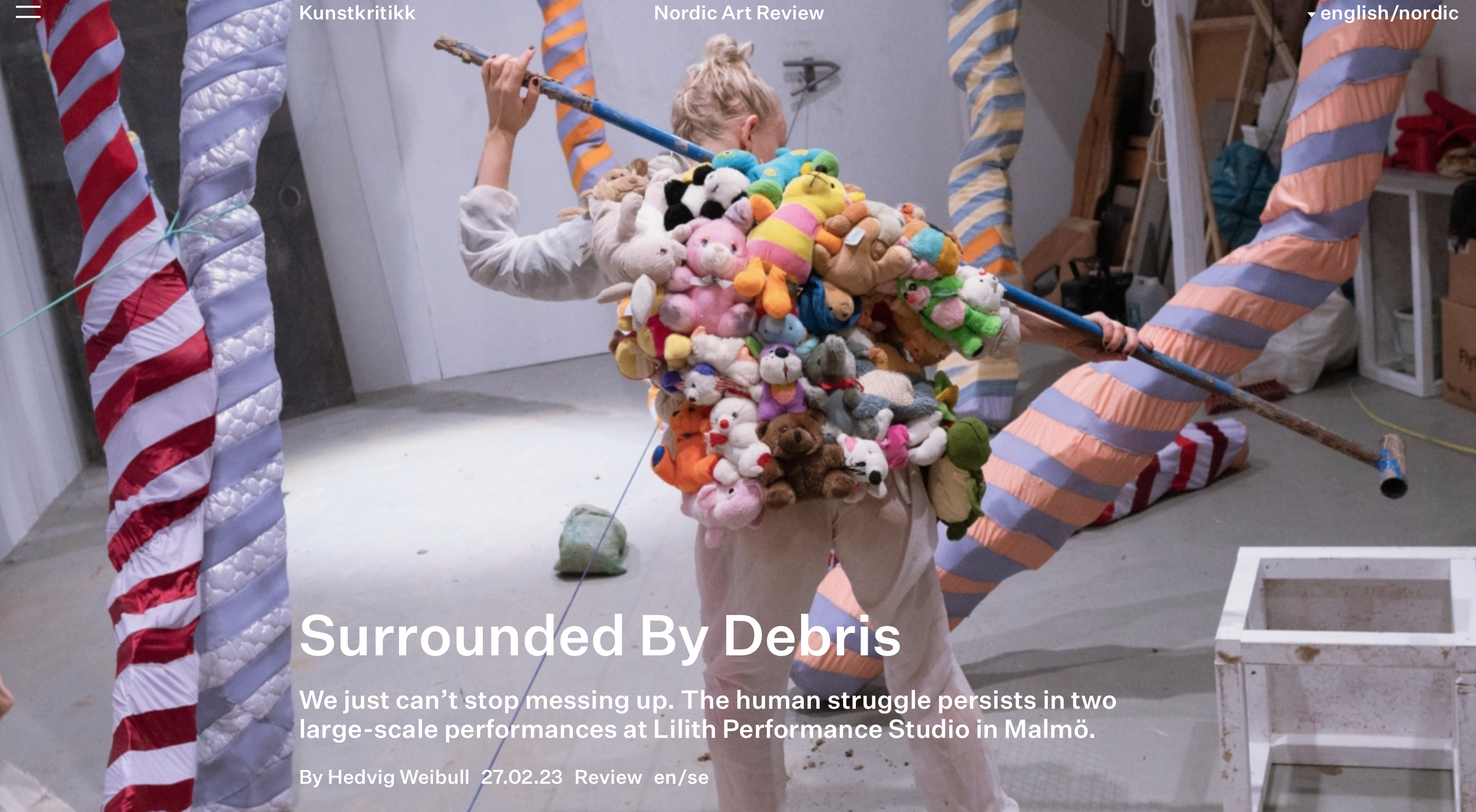 Sista helgen för de kritikerrosade performancena "Verksamhetsanalysen" av Éva Mag och Forsens början  av Anna-Karin Rasmusson.O

DET ÄR TVÅ FANTASTISKA  VERK ATT DYKA IN, UPPLEVA PROCESSEN SOM HELA TIDEN PÅGÅR OCH DE VACKRA BILDER AV FÖRSTÖRELSE OCH PÅNYTTFÖDELSE SOM SKAPAS FRAMFÖR DIG!
MISSA INTE DETTA! SISTA GÅNGEN LÖRDAG 4 MARS!!
BILJETTER → →Kulturcentralen
"Durational space" speglar sammanbrott och återfödelse i suggestiva bildsekvenser. Bilder ur ett cykliskt förlopp etsar sig in på näthinnan, livet som föränderlig föreställning,  skriver DN:s kritiker Sofia Nyblom.
→RECENSION DN
"För visst vill jag också tro att vi människor kommer sluta ställa till det för oss, om vi bara får syn på oss själva. Med mer utifrånblickar, fler vittnen och analyser, så skulle vi förstå bättre och agera bättre." Skriver Hedvig Weibull i KUNSTKRITIKK
→RECENSION KUNSTKRITIKK
"I båda fall finns något djupt berörande i den aktivitet som pågår. Oavsett om det är meningsfullt eller inte fortsätter människan sin strävan.""Det både oroar och väcker ömhet", skriver Carolina Söderholm Sydsvenskan.
→RECENSION SYDSVENSKAN
"Jag tycker mig dock lika mycket kunna läsa in hela vår civilisations förfall och utannonserade undergång. Det är ett starkt verk.." Torun Börtz
→RECENSION YSTADSALLEHANDA
"långsamt drivande rörelse kring temat sönderfall och vanmakt." Kristina Maria Mezein
→RECENSION OMKONST